Hoverboard Charging Problems |Tips To Find & Repair These Issues 2023|
Last Updated on June 15, 2023 by BoardsRiding
Hoverboard charging problems? Hoverboards are battery-powered self-balancing mini-vehicles which are becoming increasingly popular. Hoverboards rely on lithium-ion batteries, which can be damaged by a variety of factors.
Hoverboards are common, but their popularity comes at a cost: they're not always dependable. Hoverboards are among the coolest inventions of the twentieth century. However, hoverboard charging problems are just a common occurrence for users, and they can be costly.
The most common issue with hoverboards is that the battery dies, which can be caused by a variety of factors. One common problem is that the battery is not properly charged. If a battery is not properly charged, it can't handle a charge and will eventually fail.
Hoverboard Charging Problems:
If you have a hoverboard, you've probably experienced the problem of the device not charging. This is why you may be concerned about why my hoverboard is not charging. Hoverboards are assumed to be easy and convenient ways to get around, so this can be frustrating.
And if you're having such issues and searching for information on how to repair a hoverboard battery and check if it's charging or not? So, once you invest your money and time, you must be aware of these factors. Some of the potential causes include:
Failure Of A Battery:
It's a common problem with hoverboards. When you purchase a hoverboard, it arrives with a battery which is designed for a specific purpose. However, the charger may not always be compatible with the battery. A most common reason for this is a dead battery or a malfunctioning battery. Some hoverboards had a single battery, while other top-quality hoverboards had dual batteries.
When one or both batteries fail, the charging of the hoverboard stops. If this is the case, you should determine which battery is malfunctioning & try to repair this if possible, or replace the old battery by a new one. After that, you should calibrate the hoverboard once. Your hoverboard will resume charging the battery.
Charger Problem:
It's possible that your hoverboard isn't charging due to a faulty charger. It's also a common issue encountered when hoverboards stop charging. Your hoverboard charger is either damaged or a third-party charger which is incompatible with the hoverboard. You must replace the damaged hoverboard or low-quality third-party charger with an original new hoverboard charger from the same company.
After that, your Hoverboard will begin charging again. Sometimes when the hoverboard fails charging due to overheating, you'll need to replace the damaged battery with a new one. This overheated hoverboard should be replaced by a new high-quality hoverboard.
Wire Fractures:
A broken wire is one of the most common causes of Hoverboard charging problems. The hoverboards' wires are brittle. This is why they are so easily broken. However, being dropped and stepping on a hoverboard could cause this. Through short, broken wires interfere with hoverboard charging.
When you're having trouble charging your hoverboard, keep this factor in mind. Once you've situated a broken wire, you could either try to repair it yourself or carry it to a professional. You will require some tools and supplies if you decide to repair the broken wire yourself. Pliers, a soldering iron, & heat shrink tubing are required.
The Outlet Isn't Receiving Power:
There're a few possible explanations for why my hoverboard is not charging. However, this could be caused by a number of factors, including a defective cord or even a malfunctioning outlet. If you're wondering why your Gotrax hoverboard isn't charging when you insert it into an outlet, examine the following things right away:
If the power port is damaged or not functioning properly, your hoverboard will not charge. Simply connect your hoverboard charger to another port.
Connection Of A Loose Wire:
Hoverboard battery charging issues can be caused by a faulty wire connection. If the wires really aren't securely connected, the hoverboard may not charge properly. If you're having Hoverboard charging problems, check the wiring & ensure everything is securely connected.
Inadequate Hoverboard Charging Procedure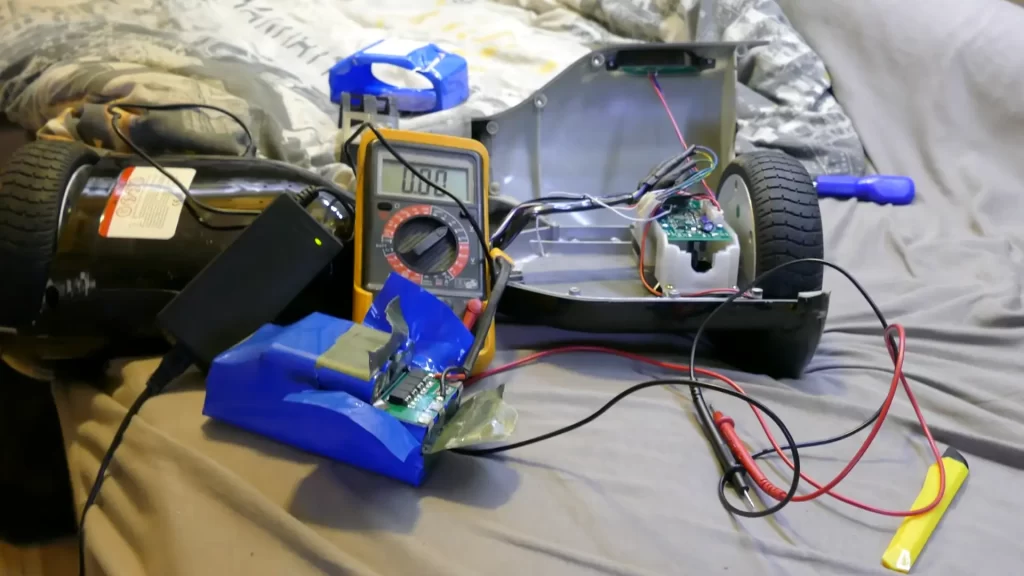 Use the appropriate charger for the hoverboard. Typically, problems are discovered like why my hoverboard will not turn on and charge even after I've plugged it in. The reason for this is because some chargers are incompatible and can damage your device. Hoverboards must be charged in such a public place.
Charging in confined spaces can overheat the hoverboard & damage the battery. Furthermore, do not charge your hoverboard for even more over 4 hours. Overcharging also can destroy the battery and interfere with the charging process.
Battery Temperature Is Excessively High:
The battery is much too hot, which is why it's not charging. It's among the most common explanations.
Various Chargers
If you're using a charger different from the original as well as a recommended charger, this could be the cause of the hoverboard not charging. Always try to utilize the original charger as well as those recommended by the hoverboard manufacturer.
Incorrect Charger Cable Connection
If the hoverboard charger cable is damaged, it won't charge your hoverboard. Check the board's cable to determine whether it's broken or of poor quality. If this is the case, you will need to replace the hoverboard charger cable.
Using A Diverse Voltage Plug Than What Your Country Requires
To charge the hoverboard, hoverboard chargers need a particular voltage. Charging voltages differ from country to country. If the charging plug you use does not meet the suggested voltage needed by the hoverboard, the board will not charge.
By mistake, the incorrect voltage plug was used
You're using an incorrect voltage plug, which is why your hoverboard is not charging.
Using An Older Hoverboard's Charger
If you have hoverboard charging problems, use a charger with an older hoverboard model, which is why your hoverboard also isn't charging.
The Material Used To Make The Hoverboard Is Of High Quality
Hoverboards may not charge due to the use of low-quality components that become prone to overheating, short-circuiting, & fire hazards, that is why we suggest avoiding these types of items altogether or waiting for the company to resolve this issue before purchasing anything.
Hoverboard-Overcharging
Overheating is another issue that could be causing the hoverboard to not charge. It can happen as a result of a long battery charge or trying to charge a hoverboard with such a faulty hoverboard. When the hoverboard battery overheats & exceeds its normal temperature, it either dies or reduces to some extent. Plug your hoverboard into a power outlet & verify the LED light here on the battery to see if it's overcharged.
How Do You Repair Hoverboard Charging Issues?
If you're able to diagnose your hoverboard & determine what is wrong with it, you will find it much easier to repair it. Let's take a look at what you could do in each case down below:
Identifying The Root Cause Of The Charging Problem
Some hoverboard charging problems are more prevalent than others. Our expert team determined that the cause might be a defective connection, a lack of power supply, or the battery being fully charged. To troubleshoot a charging problem in hoverboards such as the Swagtron T5, make sure the charger and the board are properly plugged in. Next, ensure that the socket is turned on.
If the battery is completely charged, the hoverboard will not charge. A mobile app or even the LED indicator here on board can be used to check the battery level. If all of these fail, you must consider the two options below:
Although it's not always possible, it's preferable to borrow a charger for testing before purchasing a new one.
Solutions To The Charging Problem:
Your solutions will be determined by the issues discovered during your troubleshooting. Some issues, such as faulty wall sockets and fully charged hoverboard batteries, could be easily resolved even in top-tier learner hoverboards. Others will require specialized treatment. If you discover that the hoverboard battery is fine but still does not charge, contact the manufacturer.
Most manufacturers' warranties cover charging issues with hoverboards. You could also carry the board toward a reputable repair shop. They can run advanced tests to pinpoint a source of the problem. If you take the board to an authorized repair shop, the warranty may cover necessary repairs and replacements as well.
Investing In A New Battery And Charger:
Sometimes the only way to solve charging problems is to purchase a new charger as well as a battery. Fortunately, replacement parts for the majority of hoverboard brands are found on Amazon. If you're unable to locate the desired brand, you might have to view the manufacturer's website.
When purchasing a charger, make sure it's compatible with your board. Our experts advise you to check parameters such as power rating and output current. An overpowered charger could harm the battery in your hoverboard.
If you're searching for a new battery, make sure it's compatible with your board. Manufacturers produce various versions of the exact same hoverboard, however and they do not always include the same accessories. Check the specs of your current battery and the new one to verify they match.
Hoverboard Battery Replacement:
For most cases, people encounter this issue. Their hoverboard wears and their battery life is drastically reduced. In this case, you must replace the battery with a new one. Replacing the battery on your hoverboard can be difficult. Our expert team discovered that certain makers bury batteries deep within the hoverboard, making it impossible to access without specialized tools.
Other brands allow you to replace the battery by simply unscrewing the back. Carefully read, as some manufacturers consider opening the hoverboard to void the warranty. If you're unfamiliar with electrical devices and are only using some of the best hoverboards for kids, it may be a good idea to seek assistance from someone else. A faulty battery replacement could render your hoverboard inoperable.
Faulty Charger:
If your charger is defective, you must replace it. You should never, ever compromise on the quality of the charger. A cheap charger could damage the battery & shorten its life. So, get a good charger for the hoverboard, and it will help you keep the battery life, which is extremely important.
Do not attempt to repair any broker charger. This could harm the battery.
Charging Port Damage:
If the hoverboard isn't really charging due to a damaged charging port, you can repair it yourself.
What Is The Purpose Of My Hoverboard Blinking Yellow Since Charging?
If the hoverboard is blinking yellow while charging, it means the battery needs to be replaced as soon as possible. Yellow blinking lights suggest that the battery on your hoverboard is not performing well. As a result, you could expect a significant decrease in hoverboard performance and reliability. The battery harm will have a significant impact on the speed and longevity. In that case, you should replace the battery, and there's no way around it.
How To Repair The Hoverboard Charger Port:
You will primarily encounter two issues with your hoverboard's charging ports. In one case, the charger port will be loose, and you may simply tighten this to fix the problem. In the other case, you'll need to completely replace the charger port.
Adjusting The Charger Port:
If your charger port is loose, you may not have to replace it right away. Simply follow the steps below, and hopefully, you'll be capable of resolving it all on your own.
Adding A New Charging Port:
In certain cases, you will need to replace your hoverboard's charger port. Make sure to carefully follow the steps outlined below.
How Can You Tell If Your Hoverboard Is Charging Or Not?
You now understand how to charge a hoverboard. Aside from it, you should be aware that the hoverboard is not charging.
FAQs:

Hoverboard Charging Problems:
Final Thoughts:

Hoverboard Charging Problems:
Hoverboards are exciting and fashionable mini e-vehicles. Many people adore them, and they're regarded as extremely futuristic mini-vehicles. You might concur that not all is perfect. Likewise, some common errors & faults in hoverboards, like Hoverboard charging roblems, emerge after some time.